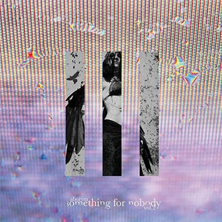 Featuring Faith Federica Sciamanna on Precarious ("Tore Apart" Remix), Going New Places "Digression 1", remixed by Aborym, Il Re del Bosco (Tribute to Guido Elmi), an alternative version by Aborym and Unpleasantness (Unconsciousness Remix), by Giuseppe Nicotera Pepito Encantado).

Side A features Something for Nobody Pt.2 (Postmidnight) original motion picture, originally written for The 7th Night of Thelema: A Virtual Ritual, produced by Chinese Wide/Polyhedron VR Studio and directed by Gianluigi Perrone. It is shot as a long sequence in Dogma VR, a manifesto of rules (by the director) serving as a method to shoot immersive experiences able to give the impression to the viewer that he/she is actually living in a different situation, not anymore artificial. A restyled version of the soundtrack, scored by Aborym's Fabrizio Giannese and Stefano Angiulli, has been used for Biollante, directed by Gianluigi Perrone, an erotic horror drama born and developed as a tribute to the Japanese cinema of the 70s. An extended version of Something for Nobody Pt.2 (Postmidnight) has been re-worked and re-mastered for the French tribal bellydance teacher and performer Inko Di Ö, also leader of the Lunatic Moires, director, choreographer and designer. This version has been customized for The Feathered Night, a shadowy tribal bellydance show created by Inko inspired by modern hysteria and urban decadence. 
Mixed & Mastered by Andrea Corvo @ Synthesis Recording Studio.
Die-cut sleeve with printed inner-sleeve and 12" 4-page booklet, pressed on glitched splattered vinyl.

Tracklist:

Side A

01. Something for Nobody Pt. 2 (Postmidnight) 

Side B

02. Precarious ("Tore Apart" Remix) 
03. Going New Places "Disgression 1" 
04. Il Re del Bosco (Tribute to Guido Elmi) 
05. Unpleasantness (Unconsciousness Remix)