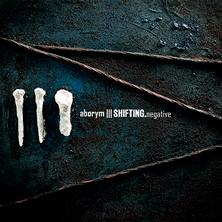 Aborym has revealed an impressive list of names behind their upcoming seventh album, SHIFTING.negative, along with the full trackilsting and cover made by French artist David Cragne (Asymetric Entity).
The new album has been engineered by Emiliano Natali (Fear No One Studios), Teo Pizzolante (Braingasm Lab) and Luciano Lamanna (Subsound Studios). In the nearest future it will be mixed and mastered by Grammy-award winning Marc Urselli, at Eastside Sound Studios (Lou Reed, John Zorn, Mike Patton).
Guido Elmi (Vasco Rossi's legendary producer and manager) has been revealed as the post-production sound supervisor behind SHIFTING.negative. Fabban commented:

"We are working with a real professional, a true legend, probably our biggest fan and a great friend. Please join us in welcoming Mr. Guido Elmi. No need to say Guido is Vasco Rossi's producer and manager over the past 30 years and he has worked as a producer with dozens of artists including Stadio, Skiantos, Gaznevada, Steve Rogers Band, Clara & Black Cars and many others. Today he's also a singer and songwriter".

SHIFTING.negative was recorded with the following line-up:
- Fabban (founder): programming, modulars, synth and vocals
- Dan V (multi-instrumentalist): guitars and bass
- Davide Tiso (Niō, Gospel of the Witches, ex-Ephel Duath): guitars
- Stefano Angiulli: synths and keyboards

Aborym's ranks also include longtime band's associate RG Narchost, who's also a live musician for the band.

There's also a long list of guest musicians involved in the album, most noticeably Sin Quirin, of Ministry's fame, but there are also other contributors:
- Ricktor (The Electric Hellfire Club)
- Pier Marzano (Koza Noztra)
- Andrea Mazzucca (drummer)
- Victor Love (Dope Stars Inc., Victor Love), Cain Cressall (The Amenta) and Nicola Favaretto N-ikonoclast (vocalists).
- Greg Watkins (Static of Masses, Order Sixty Six) and Luciano Lamanna: modular synths
- Kelly Bogues (Zogthorgven): additional ambient noise
- Joel Gilardini (The Land of the Snow, Mulo Muto, Black Machineries): additional treated guitars, electronics and (d)ronin
- Ben Hall (Silent Eretic): power-electronics
- Tor Helge Skei (Manes): ambient-electronics
- Youko Heidy: experimental noise and FX
- Leja Siv Harju: Going New Places' lyrics

Tracklist:
1. Unpleasantness
2. Precarious
3. Decadence in a Nutshell
4. 10050 Cielo Drive
5. Slipping Through the Cracks
6. You Can't Handle the Truth
7. For a Better Past
8. Tragedies for Sales
9. Going New Places
10. Big H

To order go to the Store section.